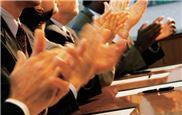 The article is a summary of a Roundtable hosted by Hotel Management Magazine and published in the June 1, 2017 issue. Its focus is about the current state of hotel lending. Angelo Stambules, Partner at DHC, participated in the Roundtable and was quoted in the article. Key takeaways by Angelo are as follows:
Lenders are requiring more demanding and precise analysis, Angelo states "You really have to have your project buttoned up. Understand and anticipate certain questions, and be prepared to answer them."
Other themes coming out of the Roundtable included mounting concerns over new supply being added to most hotel markets, slowing hotel performance and rate growth, and the impact of foreign buyers on the market. The consensus seemed to be that while no collapse of hotel fundamentals is in the forecast, lenders will continue to be cautious as they look at hotel loans going forward.Click here to see the full article.  
This is an article that appeared in the May, 2017 issue of Real Estate Forum. Geoff Davis of Davis Hotel Capital was quoted in the article and provided background data on the hotel industry for the article. The central theme of the article is that following an unprecedented prosperous cycle for hotel investment and lending that the pace of growth is slowing and hotel players need to proceed with caution. The article also covered key trends in the industry, such as the advancement of technology in reducing labor costs and in delivering hotel reservations. In the article, Davis was quoted "Everyone thinks of technology in terms of getting people in their doors but it's also a way control costs." Davis goes on to argue, "We're in the hospitality industry, we should enjoy being hospitable. Yes, hotels are very labor intensive, so if there's a way to create efficiencies, the industry should embrace it. But there should be a way to deliver both customer service and technology."Click here to see the full article.