Innovative Hotel and Hospitality Financing and Brokerage - Visualize Success
The Principals of DHC have arranged over $14 billion of hotel transactions. From the off-market sale of a Residence Inn to a mezz loan for the El San Juan Resort in Puerto Rico to a construction loan for a new Le Meridien in suburban Los Angeles, we cover the gamut of hotel financing and investment sales.  Davis Hotel Capital has provided creative hospitality financing and investment solutions for acquisitions, construction, refinancing, property sales, renovations and brand conversions, as well as debt and equity recapitalization.
Acquisition Bridge Loan arranged for the purchase of the Renaissance Chicago O'Hare Hotel.
aa
Site Acquisition/Structured Equity arranged for the Development of the Outbound Resort-Yosemite, located in Oakhurst, CA.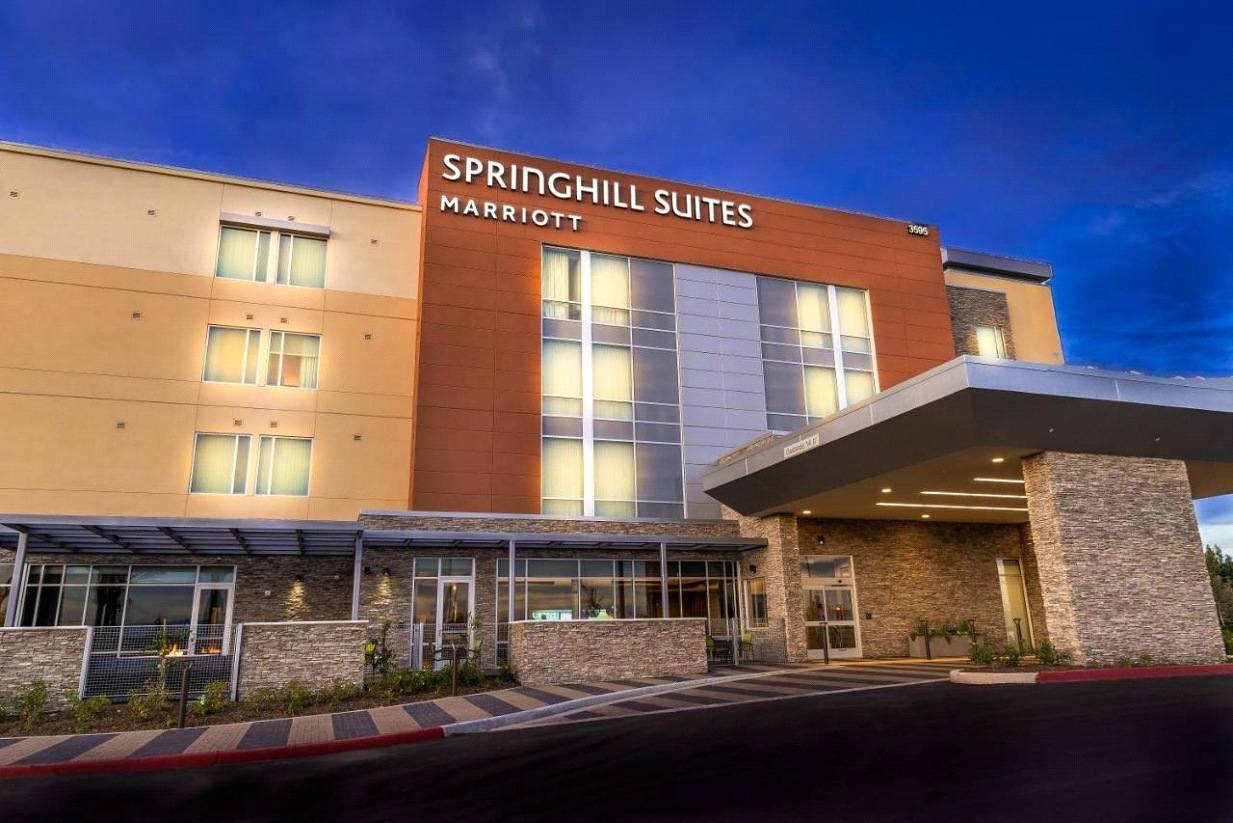 $42 million Off Market Sale of newly opened Springhill Suites in Fremont, CA to an Offshore Investor.
Hostmark/RAR Hospitality, M&A Advisory.
Le Meridien Hotel, Arcadia, CA
$43.5 million construction loan.
LANSDOWNE RESORT, LEESBURG, VA
$116 million sale, nominated for ALIS Deal of the Year.
DOUBLETREE HOTEL, DALLAS, TX
$10.3 million acquisition loan, closed in 14 days due to contract obligations.
MARRIOTT COURTYARD NYC
$90 million structured Joint Venture for new construction hotel.
EL SAN JUAN RESORT, PUERTO RICO
$30 million mezzanine loan placement to facilitate a major renovation and repositioning.
HYATT DTC, DENVER, CO
$60 million sale.
HYATT PENNS LANDING, PHILADELPHIA, PA
$50.3 million senior/mezz refinance; $80 million follow-on refinance. Initial placement was to recapitalize construction and equity positions, followed by placing long-term fixed rate financing on the asset.
INN AT MIDDLETOWN, CT
$10.4 million structured sale inclusive of loan assumption.
HOTEL SANTA FE, SANTA FE, NM
$18.75 million refinance on behalf of a complex partnership including Native American Pueblo.
HAMPTON INN & SUITES, JEKYLL ISLAND, GA
$14.5 million refinance following construction on complex land lease.
DOUBLETREE HOTEL, BERKLEY, CA
$32.5 million acquisition loan.
MARRIOTT RENAISSANCE, PITTSBURGH, PA
$20 million note purchase facilitated on behalf of a Private Equity Investor.
DOUBLETREE HOTEL, WILMINGTON, DE
$18.1 million acquisition loan
VALLEY RIVER INN, EUGENE, OR
$16 million refinance bridge loan to provide more efficient capital stack to ownership with assumption feature that was utilized on a subsequent sale of the asset.
JEKYLL ISLAND CLUB, GA
$15 million refinance. Historic Resort on complex Leasehold with the State of Georgia.
HAMPTON INN & SUITES, PRESCOTT, AZ
$8.6 million refinance to a long term fixed rate loan.
MARRIOTT COURTYARD, WASHINGTON DC
$46 million refinance of construction loan to stabilize the asset.
THE STANLEY HOTEL, ESTES PARK, CO
$13 million refinance of independent historic hotel.
HOLIDAY INN EXPRESS, NASHVILLE, TN
$11 million refinance.
MAGNOLIA HOTEL, DALLAS, TX
$23 million in senior and mezz debt refinance to restructure capital stack.
LA POSADA, SANTA FE, NM
$16 million refinance of independent resort hotel.
HOMEWOOD SUITES, OAKLAND, CA
$10 million refinance for Owner seeking long term fixed rate financing.
COMFORT INN, BROOKLYN, NY
$7.1 million Bridge Acquisition Loan.
HOTEL BLAKE, CHICAGO, IL
$20.25 Bridge Loan to facilitate brand and concept&nbspconversion.
MARRIOTT PORTFOLIO WITH ASSETS IN GA, MI AND CA
$32 million acquisition loan.
DOUBLETREE HOTEL, CHARLOTTE, NC
$21.7 million acquisition loan funded in 30 days.
WESTIN HOTEL COLUMBUS AND SHERATON HOTEL MADISON
$36.6 million Acquisition Loan to facilitate a purchase and renovation.
HILTON ANTLERS, COLORADO SPRINGS, CO
$23.2 million sale.
DOUBLETREE HOTEL, DALLAS, TX
$22 million sale.
HOLIDAY INN LINCOLN, NE
Sold to Private Equity Investor for conversion to Graduate Brand, $24.8 million sale.
HAMPTON JFK AIRPORT, NEW YORK CITY
Sold to Private Equity Investor.
NATHAN HALE INN, STORRS, CT
Arranged sale of asset on short-term land lease on campus of University of Connecticut.
HILTON HOTEL, KNOXVILLE, TN
Sold asset to initial investor and then represented same investor in sale of the asset for $31.5 million.
HILTON GARDEN INN, EDISON, NJ
Asset sold as part of a 3-property portfolio sale.
VALLEY RIVER INN, EUGENE, OR
$24 million sale.
EMBASSY SUITES, PISCATAWAY, NJ
$9.7 million sale on behalf of a Special Servicer.
MARRIOTT PUEBLO, CO
$6.7 million distressed asset sale.
WESTIN, MT. LAUREL, NJ
Debtor in Possession Sale orchestrated in conjunction with Lender.
DOUBLETREE HOTEL, PRINCETON, NJ
$13.85 million sale.
HILTON SCRANTON PA
Sold as distressed asset in 2010 for $12.5 million, renovated and resold in 2016 for $19 million.
SPRINGHILL SUITES, BURR RIDGE AND ELMHURST, IL
$22.5 million refinance post brand conversion to stabilize assets underlying debt.
MICROTELS AND HAMPTON INN, WILLISTON AND DICKINSON, ND
$20 million refinance. Long term fixed rate structured debt to stabilize properties in a emerging market.
LODGIAN PORTFOLIO
Six hotel refinance, $59.5 million across 5 States.
GULPH CREEK PORTFOLIO, PHILADELPHIA, PA
$50.3 million refinance with flexible terms, which helped facilitate a subsequent sale.
DEBT/EQUITY RECAPITALIZATION
$100 million Portfolio Debt/Equity Recapitalization
HAMPTON INN NEW ORLEANS, LA
Portfolio, 3 hotels plus parking garage. $121 million sale.
COURTYARD AND RESIDENCE INN, COLLEGEVILLE AND MALVERN, PA
Sold as a package for $41 million to a REIT.
VILLAGE AT BRECKENRIDGE, CO
Mixed Use Resort with three hotels, retail and base facilities, sold in phases to Marriott and Vail Resorts.
SHERATON HOTEL, MAHWAH, NJ
$12 million sale.
SHERATON DTC, DENVER, CO
Orchestrated the sale of this asset 5 times over a 25 year period for values ranging from $6 million to $26 million.
MARRIOTT 3-PACK, FT COLLINS, CO
Sold full-service Marriott Hotel, Residence Inn and Courtyard portfolio twice over a 5-year period. Initial sale of $42 million.
SPRINGHILL SUITES LOCATED IN ELMHURST AND BURR RIDGE, IL
$21 million sale that closed in less than 30 days from LOI.
HAMPTON INNS IN CHARLOTTE, NC AND COLUMBIA, SC
Portfolio sold to Kuwaiti investor with Operating Partner able to retain management of the assets.